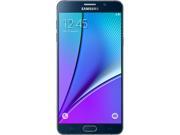 Get more done and look great doing it. The large, thin, beautiful Samsung Galaxy Note 5 boasts all the appealing elements you'd expected to perfect every aspect of your life.
The powerful Octa-Core processor works in concert with 4GB of RAM to let you blast through any tasks. Nothing slows you down. Keep moving and keep you writing. The precision advanced S Pen makes you ultra-efficient. See stunning imagery and vibrant colors come to life before your eyes on the gorgeous 5.7" Quad HD Super AMOLED display. Capture great shots anytime, anywhere with the high-performance dual cameras. Enjoy the freedom to recharge anywhere, thanks to its built-in wireless charging. And more.
It's still as big but now slimmer, framed by sleek metal and glass. Use S Pen on a gorgeous flat surface while the phone's dual-edge back lies snuggly in your hand. Whether you're writing emails, checking social media feeds or scribbling with S Pen, the curved back of the Galaxy Note5 will sit comfortably in the palm of your hand. It's a satisfyingly compact fit. The premium combination of extra tough 7000 series aluminum and Gorilla Glass 4 lends an ultra-refined look and a sturdier build.Moreover, the signature S Pen has a whole new design. The solid and sleek metallic finish completes your S Pen experience.