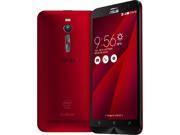 ASUS ZenFone 2 ( ZE551ML ) - An Android 5.0 Smartphone.
Luxury Smartphone, Without the High Price Tag.
Unlocked/No Contract Required.
5.5 Inch Full IPS HD Display, Intel Atom Quad Core Processor,
2GB/4GB RAM, 4G/LTE Ready, Dual Active SIM, 13MP Rear & 5MP Front Cameras, and More!
Finally, Bigger and Better Doesn't Come with a High Price Tag.
ASUS ZenFone 2 has a stunning, all-new design that seamlessly melds premium craftsmanship and technology together creating the ultimate balance of beauty and power, and it is affordable!
Unparalleled Performance
ZenFone 2 is powered by a 64-bit Super Quad-Core Intel Atom processor, and is the world's first smartphone with 4GB of dual-channel DDR3 RAM (not offered on all models). Featuring LTE Category 4+ for download speeds up to 250Mbit/s, and a 60ms touch response time, ZenFone 2 gives you power beyond your imagination. Finally, bigger and better doesn't always come with high price tag!